Visit Giverny surroundings – Vernon, a real wonder.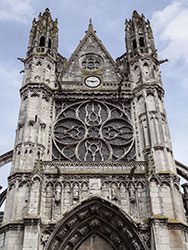 PLACE BARETTE –  4 MINUTES walk
Collégiale Notre Dame dates back to the Romanesque period (end of the 11th century), but its construction continued throughout the Gothic period and ended in the 17th century. With a cruciform plan, the collegiate church is representative of the Romanesque and the various Gothic periods: façade from the 15th century with a beautiful flamboyant Rose, a 13th century Lantern Tower and a triforium from the15th century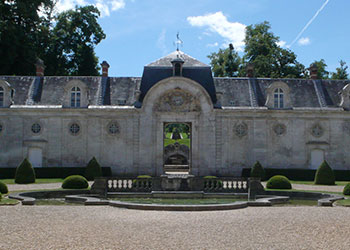 30 MINUTES walk
The Château de Bizy, built in the 18th century by Coutant d'Ivry for Fouquet, Duke of Belle Isle and Marshal of France, is famous for its stables inspired by Versailles. Magnificent woodwork and tapestries from the 18th century can be contemplated inside. Many Napoleonic souvenirs. Horse carriages exhibitions.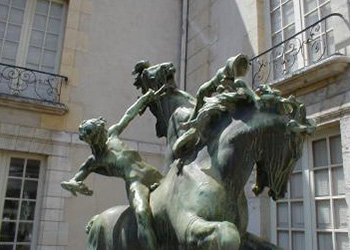 5 MINUTES walk
Open to the public in 1983, the municipal museum is named after a local archaeologist and scholar who donated his collection in 1927. However the origins of the museum are older. In 1862 the heirs of M. de Brécourt offered the town a set of 2 000 naturalised birds to which were added various donations. Oriented towards the Beaux Arts later, then archaeology with A.G. Poulain.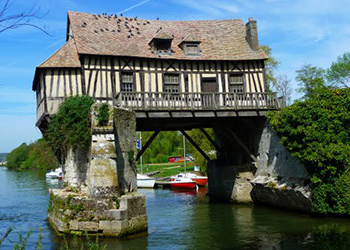 Symbol of Vernon, the old mill still stands astride two piers of the old bridge over the Seine. It is clearly visible from the Clémenceau bridge or the Parc des Tourelles.
Maison Du Temps Jadis (Medieval House)
3 MINUTES walk : at the corner of streets CARNOT and SAINT-SAUVEUR.
Maison Du Temps Jadis (Medieval House) is one of the oldest houses in Vernon. This corbelled construction dates from the 15th century and has beautiful half-timbered facades and an "Annunciation" carved from full wood on the corner post. Classified as Monument Historique, this "Former town café" is now the location of the Tourist Office
What to visit in the surroundings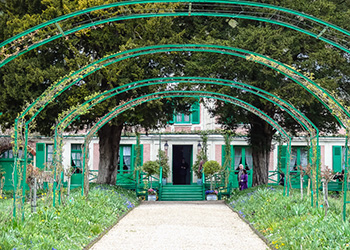 84 RUE CLAUDE MONET, 27620 GIVERNY
In Giverny, a small village 4 km from Vernon, you will find the house where Claude Monet – famous impressionist painter – lived. Barely a month after settling there he wrote: "I am delighted, Giverny is a splendid country for me …".
⚠
Caution : Booking by Internet to visit Claude Monet Giverny House and Gardens is compulsory, no booking = no entrance, make sure you have booked in advance
Château de La Roche-Guyon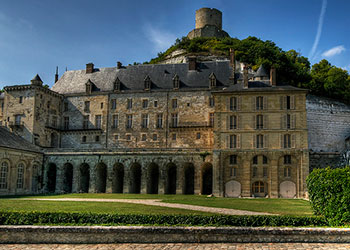 15 MINUTES Drive from VERNON
Leaning against the chalk cliffs of the Seine, it is a perfect illustration for historical events which have taken place there periodically. Astonishing architectural combination of more than ten centuries, the Château de la Roche-Guyon nestles in a grandiose landscape with subtle lights cherished by the Impressionists.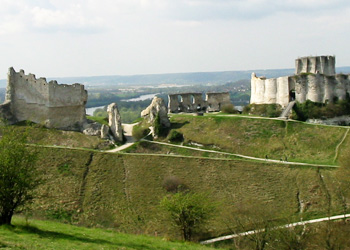 25 MINUTES drive from VERNON
This majestic 12th-century fortress was built by Richard the Lionheart, King of England, Duke of Normandy. Most of the site occupies a rocky outcrop overlooking the Seine by 100 metres, and consists of a detached structure, or châtelet, and a castle protected by two enclosures.
Château d'Ambleville & its gardens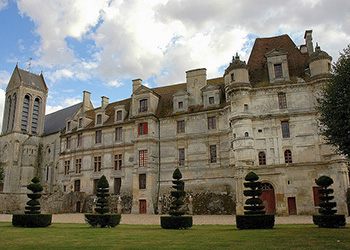 AMBLEVILLE,  20 MINUTES drive from VERNON
French Renaissance style château located in a succession of Italian gardens, an absolute theatre of greenery and water created by the Salviati Borghese.
Ravishing pools, monumental chess game, century-old Tilia: the gardens of Ambleville, classified as "Jardins Remarquables", are made of three terraces.
They were recreated by the Marquise de Villefranche when she bought the castle in 1928 from the heirs of Charles Sedelmeyer.